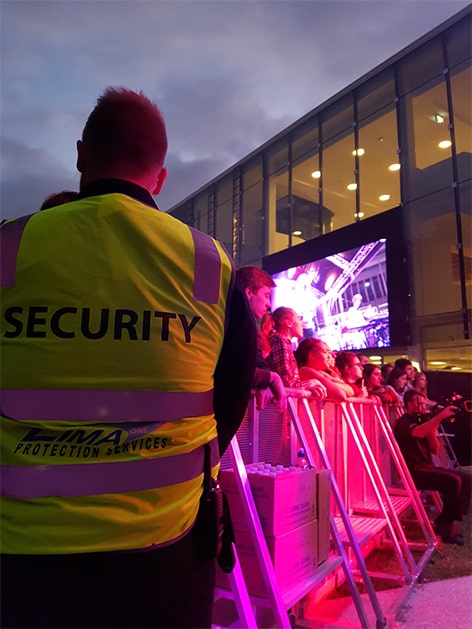 Lima One A Company With Highlights

Lima One Protection Group was established in 2005 and has become one of the market leaders in providing quality security solutions. Lima One prides itself on the ability to provide a unique service that far exceeds its competitors and is committed to providing security solutions tailored to meet the needs of our clients.
Lima One consists of a highly knowledgeable management team who together have over 35 years of security experience.

MISSION
"To be recognised as the preferred Security & Protection Company in South Australia by providing the highest quality security solutions that exceed our clients expectations, leaving our clients with a feeling of complete satisfaction and the desire to maintain a long term working relationship with us."

VALUES
To be committed to the continual growth and betterment of the services we provide to our clients and customers, by investing in our greatest asset, our employees, and maintaining a culture that motivates and promotes a quality approach to service delivery that we are very proudly recognised for.

VISION
"As a company, and as individuals, we strive to foster an atmosphere that promotes team camaraderie, loyalty and dedication to the vision.

When you entrust Lima One with your security requirements, you are trusting one of the very few security companies in South Australia that is currently operating in line with the ISO Standard in all three standards.

Lima One has an approach that can be of assistance to you in the delivery of security service around the country.

The philosophy behind identifying the issues in the community, does not necessarily meet the overall picture of the security program you should be introducing.

Identifying The Right People
A lot of regional and remote areas don't have people with the right qualification and or licenses that are required to do the job.

If we identified that it was a large indigenous Community, then we would identify the training required and role that out on our Learning Management system.

Developing Sercurity Management Plan
Once we have the information from point 1,2 &3, we can then start to understand the complexities of the local community and work with our client to best address this.
Join Our volunteer
Subscribe Our Newsletter.

We are the result of our hardwork. Our passion for what we do makes us pioneers in our sector
Security provider for the past 3 years.
Lima One has been a proud Tier One provider for Spotless/TGS for the past 4-5 years.Working together to ensure delivery of security solutions to Adelaide Oval, Adelaide 500, Tour Down Under, Morphettville Racecourse.
Netball SA and the Thunderbirds –Lima One has been a proud partner of the Thuinderbirds and Netball SA for 2 years.
Proud security partner for 6 years providing game day security, licensed venue activations and specialist high quality solutions for player management.

Lima one security recognises that the disciplines of Quality, Work Health and Safety and Environmental Management are an integral part of its management function and is currently working towards being certified to the international standard in the following management and operational systems:

Our employees are what drive our ongoing success, especially with ongoing client satisfaction. At Limaone we take great emphasis on training and development.
5 EXTENSIVELY TRAINED K9'S IN ASSET PROTECTION, PERSONAL PROTECTION AND DRUG DETECTION [...]
NUMEROUS LARGE SCALE MUSIC EVENTS [...]
ADELAIDE'S PREMIER SUPPLIER TO LICENCE VENUES [...]

Our employees are what drive our ongoing success, especially with ongoing client satisfaction. At Limaone we take great emphasis on training and development.